Jul 4, 2015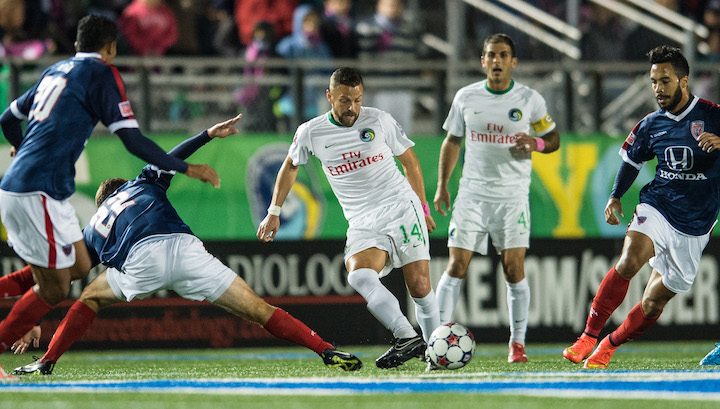 By Aaron Cheris, NYCosmos.com
GAME PREVIEW NY COSMOS VS. INDY ELEVEN
Who
New York Cosmos (0-0-0 Fall, 5-5-0 Overall) vs. Indy Eleven (0-0-0, 3-4-3)
When & Where
Sunday, July 5, 2015 at 7 p.m. ET | James M. Shuart Stadium
New York Cosmos B vs. Rhode Island Reds at 4 p.m. ET (Gate C opens at 3:30 p.m.)
Promos: Raúl bobblehead for first 3,000 fans presented by First Nationwide Title, postgame fireworks presented by Grucci
Follow

The Stakes
New York Cosmos: In their last game the Cosmos fell for the first time this year in competitive play, losing 4-1 to the New York Red Bulls in U.S. Open Cup's Round of 16 on Wednesday. In their last NASL match, the Cosmos tied Jacksonville Armada FC 3-3 at home on June 13 to clinch the NASL Spring Championship.
Lucky Mkosana has been on fire lately for the Cosmos. In his last four games Mkosana has tallied five goals. His strong streak began with two goals against the Cuban National Team on June 2. He continued his hot streak with late goals against Jacksonville and New York City FC, and scored the Cosmos' lone goal in Wednesday's loss.
Indy Eleven: Indy finished the Spring Season fifth in the NASL with 13 points. Four players are tied for the team lead in goals with four each. Dylan Mares is one of those four, and he added four assists to lead the team in the spring.
Goalkeeper Kristian Nicht started eight games for Indy in the spring, making 21 saves. During that span he allowed just eight goals, fewest in the NASL for goalkeepers that started at least eight games.
Indy has not lost an NASL match since a 1-0 defeat on the road against Ottawa Fury FC on May 23.
Matchup History
In four prior meetings between the Cosmos and Indy Eleven, there has never been a winner. All four games were deadlocked at the final whistle by the score of 0-0, 1-1, or 2-2. In their most recent meeting, Raúl scored the tying goal in the second half to give the Cosmos a 1-1 draw at Michael A. Carroll Stadium on April 11.
Notes
Balanced Attack: Eight Cosmos scored in the NASL Spring Season. Raúl is the team leader with four goals and Lucky Mkosana and Leo Fernandes each have three. The Cosmos 16 goals were tied for most in the NASL with FC Edmonton. The Cosmos 80 shots are most in the league.
Home Sweet Home: At home this season the Cosmos are 6-1-0 (WDL) in all games. In their last home game, the Cosmos made a dramatic comeback against MLS side New York City FC and won the game in penalty kicks in U.S. Open Cup play.
Maurer the Man in Net: In the NASL Spring Season Cosmos goalkeeper Jimmy Maurer was one of two goalkeepers to start all 10 of his team's games, making 26 saves in that time frame. Maurer also allowed just nine goals, second in the NASL for goalkeepers who started at least eight games.
Senna Starts Final Stretch: A few weeks ago, Cosmos midfielder Marcos Senna announced he would retire at the end of the Fall Season. Senna scored the game-winning goal in the 2013 Soccer Bowl in Atlanta to give the Cosmos a championship in their reboot season.
---